An invitation for those who want to have a taste of the many gifts of Kirtan, Devotional Music and Chant, for those who will like to include chanting in their Yoga practices or for those who aspire to lead Kirtan.

We will facilitate an opportunity for the chanting of sacred mantras the discovery of their meaning and power through direct experience in singing recitation and silence. We will introduce some of the main "Hindu" deities and explore the energies they manifest.

Sangeeta offers in this Workshop a humble introduction to Kirtan significance as part of the Bhakti Yoga tradition. An intimate space, a place to get inspired, to share hearts and voice in love song of union and be introduced to the meaning and essence of chanting. We will Lead Kirtan allowing the blend of voice and heart within a smaller more intimate group for all of us to be inspired. Together sing your love and gain confidence in your own practice and in the power of sharing Kirtan.

All Welcome!
Thank you for the heartfelt morning of chanting and communing with friends, it was very joyful! It was also a powerful reminder of how we simply bypass the mind when we put our attention on the ears of the divine creator. Jai Ma !
Rani Willis

This Workshop was FANTASTIC. Sangeeta is very generous in sharing her knowledge of all aspects of Kirtan.
Pranesh

So loved this workshop. Sangeeta poured her love and knowledge upon us, a totally blissful sharing of Bhakti.Much gratitude for you,
Alissa Nataniel

Singing devotional mantra and song, is the direct route for me to the divine. It takes me deep into the silence, connects me to every one, and expands me into the universe. It is the most ecstatic thing I can do in company of other lovers of the divine and the sacred. Love,
Zenith

Devotional singing is one of the most elegant ways I have found for connecting with my spirit – which then leads me on an inner journey of healing and spontaneous insight on life-situations that have been perplexing me.  As I sing and open my heart more and more, I experience an awakening to joy as I remember the blissful nature of reality and move beyond the mind into the divine.  Often I feel to moved to dance as I sing, and in that unified expression is a freedom and a deep courage that emerges in me that really nourishes me in my daily life.
I love the space you hold for this process – it feels very clean and pure and humble to me.
Thanks, Sarah-jane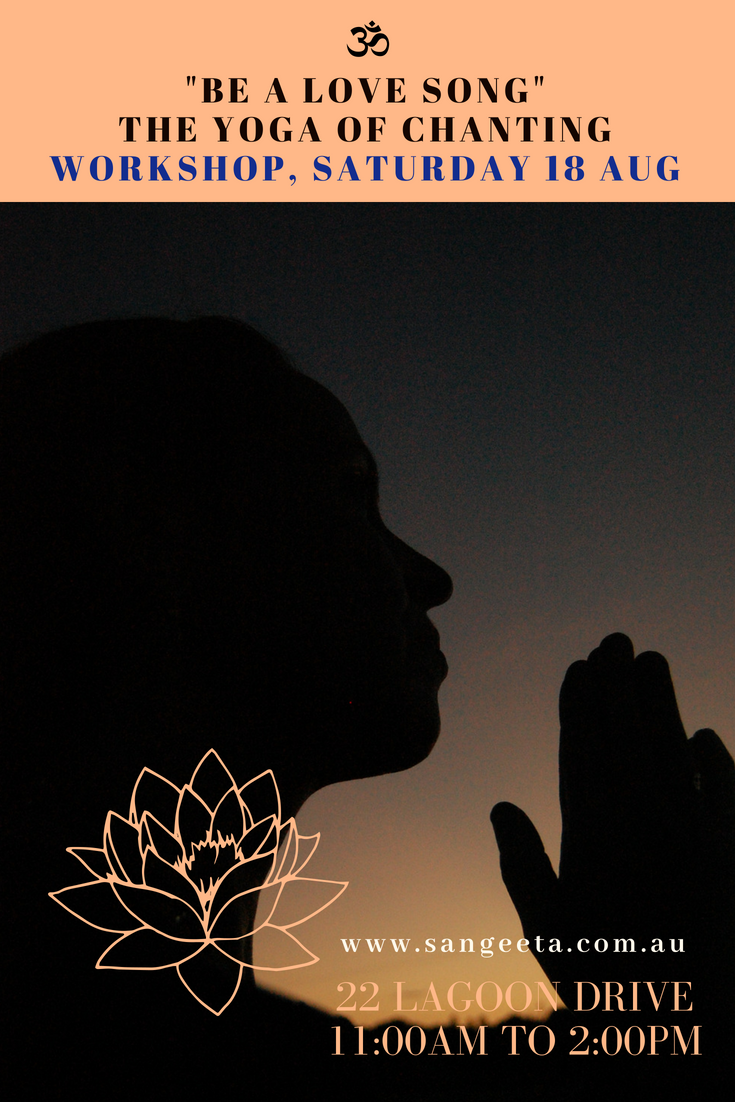 Next Workshop  

Saturday 18 August
11am – 2pm
Lot 22 Lagoon Drive
Mullumbimby
(For Google Map users: 71 Lagoon Drive)
tall thin white Balinese flag at the gate and a dog Kennel as a letter box.
Please Park Outside.

$60 per person
limited places
sangeeta@thehouseofbliss.com.au