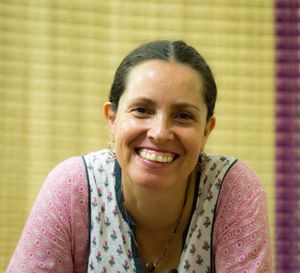 Surrounded by music through both my culture and home environment. My family expressed themselves through music, my father played in a jazz band and my grandmother was a concert pianist. I listen and revel at the strange power that music carries. A comforting power that turned out to be very relevant during the painful political revolution that divided my country and ran as a background through my upbringing. Music was a natural way to bring the community together in solidarity and enjoyment. Meanwhile a fire was burning inside of me, fueled by questions about the meaning of life, where to find peace and happiness, and how to understand the chaotic condition of the human race.
During a three days end of school silent retreat at  17, I was confronted with the questions: who am I? And what do I want to do with my life? A very powerful awakening occurred for me, then I made the promise to myself  that this lifetime was to be in union with the Divine, and that all my actions would be dedicated to this.

In alignment with my promise, at the age of 22 I found myself in India, meditating, and following the path paved by Osho, a revolutionary and controversial teacher that took me out of my country and pushed my first steps into the unknown. He named me Deva Sangeeta; Divine Music. Here I heard and sang songs of love to the teacher and to the Truth.

Finally in 1991, in answer to my prayers and by a stroke of divine grace and luck I traveled  to Lucknow City, landing at the feet of my eternal Sat Guru, HWL Poonja, Papaji, himself direct disciple of the greatest rishi of India, Bhagavan Sri Ramana Maharishi, the Sage of Arunachala.
He took me beyond all concept and knowledge, into the ever present, unknowable reality of who I truly am.
Living in his presence each day for the next seven years, I was appointed to care for and maintain the Satsang House, where I lived, and especially to look after the community of people who had gathered to receive Papaji's teachings there. It was at this time that I learned Bhajans, Mantras and Kirtan as well as devotional music composed by devotees themselves, it permeated through my pores the love for music that let the heart sing sharing the journey of the manifest into the beyond. Papaji gave me the name Sangeeta once again; celestial music, he said…"the music we hear when there is no intention, no desire".

 
I saw my Guru's tears at the sound of this music, I felt his joy and wisdom when he encourage us to sing and sing some more, I received like fresh water in the desert the tunes of the devotional music of India.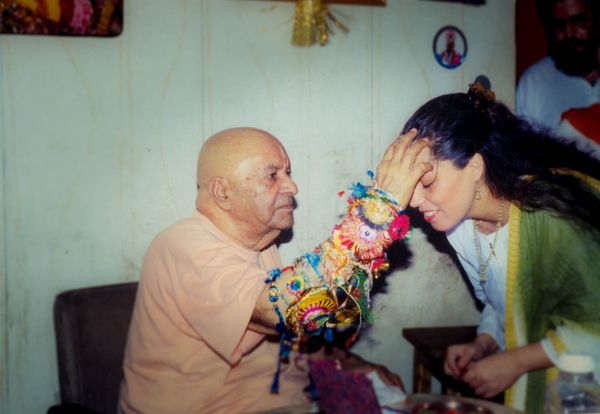 Papaji appointed an Indian music teacher for me to learn Bhajans and then ask me to teach others. After some time, almost everybody could sing. At that time we recorded and compiled two CDs of devotional songs and chants.
During a glorious visit to his house one day, he whispered to me, mystic Kabir's words in the song : Ghungate ke Pat Khol. In 2000 my own interpretation of this song became a part of a studio album that I recorded and helped produce in Lucknow, naming it "The Lucknow Project". In 2010, the renowned Putumayo New York Label  added this song to their first compilation of Yoga music called "YOGA".
After Papaji Mahasamadhi in Sept 1997, I continued immersing myself into India's sacred traditions and could travel the world every summer visiting friends and family and raised my daughter, born in 1995, at the Satsang House, in Lucknow. After establishing a family home at the feet of the Holy Hill of Arunachala in Tiruvannamalai, Tamil Nadu, my time in India was spent in Holy company, sacred sites, Ashrams and temples, singing wherever and whenever and holding singing gatherings both publicly and at home. Always inspired by the power of sharing voices and unifying hearts through music.
We moved to the Byron Bay area, the lush rainbow region of Northern NSW, Australia in 2004 and was here, where I got invited to share chanting and teaching to a broader community of people that perhaps knew nothing about the chanting culture of mother India, since, I continue still to spend months of every year in India.
During one of my visits to India in 2007 I met Jai Uttal (my very own favorite kirtan lover from USA) and his family at one of his Kirtan Camps in Kerala, we developed a beautiful brotherhood and it was his mentorship, love  and encouragement, that gave me the impulse to continue sharing through out all this years.We have collaborated in many occasions and he continues to invite me to be a part of his own Kirtan Camp around the world again and again.
Being based between India and Australia, there has been abundant opportunities to share locally and internationally, holding and co-hosting regular chanting gatherings in my hometown for 12 years also facilitated both private and public chanting workshops at festivals, yoga centers and retreats in Australia, Bali, India, Chile, Spain and the USA.
I'm humbled and touched by the given opportunity of sharing sacred space through singing, the loving people I have met, the collaborations the family that is created. There is an ever increasing family tribe of people chanting. We all sing for boundaries to dissolve within ourselves and our communities, knowing that when we sing  together in intimacy, with our own and only Self, Peace is Here.